Finishing Agents For All Types Of Denim.
DEEPNOL-HF-250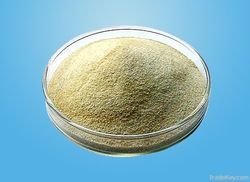 APPLICATION :
Finishing Agent for all types of Denim / Fabric.
CHEMISTRY OF ADVANTAGE:
1)Higher value of stiffness.
2)Better brightness and good luster.
3)Improved surface smoothness. Enhance look out fabric.
4)Minimizes pilling effect / less hairiness.
5)improved Sew ability / easy for cutting.
6)Good de-sizing.
1)Compatible with other finishing ingredients.

CHEMISTRY FOR ECONOMICS:
Reduce / Eliminate usage of stiffener.
PHYSICAL PROPERTIES:
PH:5-7.
Pack-Size:35kg,60kg,200kg.

Unique Features :
1)Better stiffness, superior surface smoothness.
2)N.on-yellowing and hydrophobic in nature.
3)Better brightness and good luster.
4)Better crease resistance.
5)Better permanency after washing.
6)Maintains brightness at high temperature.
7)No nail marks.
8)No surface harshness.
9)Compatible with PVA, silicone, cationic, PVAC etc.
10)Improves folding resistance.
11)Improves the penetration of finishing ingredients into core of the fabrics Reduces the consumption of PVAC I EM.
12)Eliminates polyvinyl alcohol solution.
13)Eliminates NKS, AMH solution.
14)Eliminates gum paste like Dr. Gum, White Gum, etc.
15)No need to put catalyst like magnesium chloride to cross-link UF Resin, MF Resin. '
16)Low dosage